On a road trip from Austin to Santa Fe, you'll journey through some of the most breathtaking scenery and vibrant cultural destinations the Southwest has to offer. According to Google Maps, an Austin to Santa Fe road trip will take 11 hours and 6 minutes to complete, not including stops. The app also displays two separate options. One route has tolls while the other does not. The one with tolls only costs $3.87, and both are the same drive time. The two optimal places to stop along the approximately 687-mile journey are Lubbock, Texas (toll route) and Roswell, NM (non-toll route). Whether you're a seasoned road tripper or a first-time adventurer, the Austin to Santa Fe road trip is sure to be an unforgettable experience.
Route Option #1: Lubbock, Texas 

Trip Highlights: Football, Music, and Animals
6 hours, 6 minutes from Austin (373 mi)
Lubbock, Texas: home of the Texas Tech Red Raiders, Buddy Holly, and the Moody Aquarium. If you plan your road trip for some time in the fall, you could catch a home football game at the University of Texas Tech. To share a pro tip, wear black and red to show support and bring a side of tortillas. The tortilla tip sounds strange—because it is—but home fans throw tortillas throughout the football game to boost morale. 
If you don't like football and tailgates, perhaps music is the better option. Rock 'n' roll legend Buddy Holly calls Lubbock home. The Buddy Holly Center is considered a historic site that preserves, collects, and promotes Holly's life along with other West Texas musicians. Additionally, nearby is the West Texas Walk of Fame. At the West Texas Walk of Fame, you can find a statue of Holly along with several plaques displaying the names of other musicians from the area. 
If both football and music fail to pique your interest, maybe you love animals! The Moody Aquarium specifically focuses on education as a pathway to spark love for our oceans. The aquarium also believes that children are the most valuable assets to save our oceans. They provide educational opportunities for kids through various types of crafts and up-close encounters with the animals. 
Route Option #2: Roswell, New Mexico 

Trip Highlights: Aliens, Nature, and Wine/Art
8 hours, 6 min from Austin (513 mi)
Roswell, New Mexico: home of the 1947 UFO landing. From the International UFO Museum and Research Center to the Roswell UFO Spacewalk, Roswell has all the opportunities to learn more about our space neighbors. According to TripAdvisor, the International UFO Museum and Research Center displays all pertinent information about the 1947 landing to convince you that a UFO did land in Roswell. The Roswell UFO Spacewalk, winner of the 2022 Traveler's Choice Award, features a walkthrough blacklight adventure great for all ages. 
If you're not interested in aliens, Roswell has several opportunities for nature lovers. Bottomless Lakes State Park contains sinkholes ranging from 17 to 90 feet deep. Anybody can visit eight of the nine lakes, but only Lake Lea permits swimming. If you love birds, Roswell also offers Bitter Lake National Wildlife Refuge along with J. Kenneth Smith Bird Sanctuary and Nature Center. 
If you're traveling without kids, Roswell has several art and wine opportunities. The top-rated winery in Roswell is Pecos Flavors Winery. Make sure to check their event page to see if they have any upcoming events during your travel dates. Regarding art, Roswell has eclectic museums such as the Miniatures and Curious Collections Museum to more established museums such as the Anderson Museum of Contemporary Art. 
Helpful Tips for your Austin to Santa Fe Road Trip
Of course, there are ample different routes you could take to complete this epic road trip. And if you pack snacks, and a positive attitude, we're sure you'll enjoy your journey! 
One important safety note—drive safe in West Texas. US-285 is known as the "Death Highway" because there are so many accidents in the area. In 2017, 93 people lost their lives along Route 285 on the Texas portion alone. Have fun. But stay safe!
If you find yourself wanting to create your own road trip, make sure you check out Roadside America for the offbeat tourist such as yourself.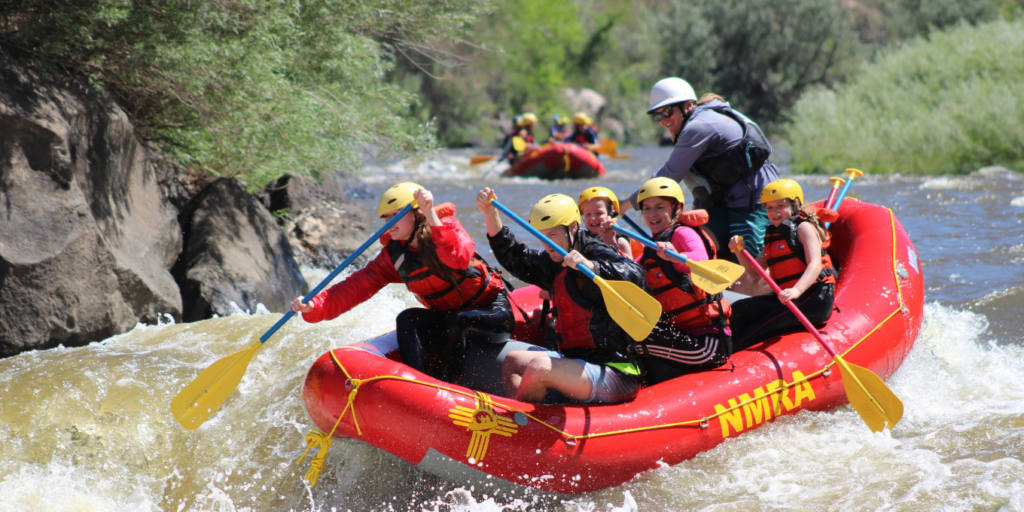 In addition to the many cultural and natural attractions along the route, don't forget to include a thrilling Santa Fe white water rafting trip with New Mexico River Adventures, where you can experience the rush of the Rio Grande rafting or the Rio Chama rafting, and take in the stunning New Mexico scenery from a unique perspective. We'll save you a seat!